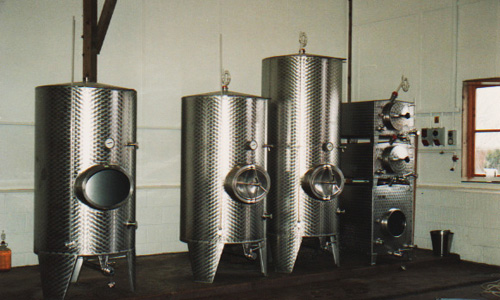 First tanks in a new winery.
A winery is the heart of a wine producers empire, where the winemakers manipulate their grapes into that great nectar called wine. Yes, hopefully most of what is produced in a winery is considered to be nectar, but crafting against many odds, such as bacteria and oxygen to name just two can sometimes result in anything but.
Hygiene is the always important god in this temple of the grape. This is why so many of today's wineries throughout the world make their wine in stainless steel tanks. They're ideal for fermenting and storing wine in as they can be easily cleaned and sterilized. Another big plus is the ability to control the liquid temperature via internal or external refrigeration fitted onto these vessels.
Winery types
There are wineries to suit all, from the massive tanks farms of Gallo, Mondavi and Torres that emulate oil refineries, to the micro-winery in the basement for the keen amateur at home, and everything in between. The main difference is that one works on the principle of complete automation in volume where computers do most of the calculations, to the absolute hands-on approach of the amateur. Both operations can make excellent wine, but the chances of errors would be much higher with the hit-and-miss methods in the smaller setup.
The equipment used for large or small setups is similar except for scale. Glass carboys or plastic tanks will often be found in the micro winery, while stainless steel is the choice of most commercial wineries.

Want your own winery?
Making the dream a reality…
For many people, owning and running a winery is a dream job. Wine Business Monthly reckons that the number of wineries in the U.S. has jumped 26% in under three years. To carry out this dream, one must understand that winemaking involves both science as well as art. Starting a winery is just like starting any other business and requires planning and a full in depth understanding of the industry as a whole. In The Complete Idiot's Guide to Starting and Running a Winery
, readers will learn about:
How to put together a proper business plan
The different grape varieties and wine types they produce
Internal winery design and what equipment is needed
How to promote and market wines - the hardest part as there is so much competition - therefore the wine has to be good, not just average!
How I followed my dream - and was able to build a winery...
Having been trained in agriculture, I very quickly had to learn about growing grapes rather than corn. I bought so many books and in no time I was pruning like a pro! Running a vineyard is very different to running a winery - it's where good 'ol farming meets high-tech business.
Undaunted by the prospect of trying my hand at wine making, it was "learn by your mistakes", and soon I grasped how to do it with the help of a top German winemaker and those trusty books. Now was the time of complete luck, where I persuaded a leading businessman to invest in a really modern stainless steel winery - and he said YES!
My journey had begun.

Planning and designing a winery
No matter how big or small a winery you wish to build, you need to spend a lot of time on the design and layout of the building. All buildings connected with manufacturing anything have a 'flow' through them, this means they must work efficiently as the product is processed and moved around them. From the grape pressing stage through wine making and in and out of storage, there are many tasks to be undertaken at different times, so think about the design very carefully.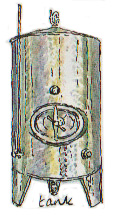 Visit other wineries to get ideas of what they find useful or what they did wrong - I have always found that you learn far more from things that have gone wrong than vice versa. Most winemakers will offer snippets of advice to an enthusiastic newbie.
Before I bought any equipment to install, I hunted out all the manufacturers - especially of the stainless steel tanks - to get vital info from them as to what they would do or have if they were in my position. It is also is well worth creating a relationship with your suppliers for the future.
By far the best way to approach design is to befriend a professional winemaker - go and work at the vineyard for a season or two to get the whole feel of it - and build a friendship. Then you can pick his or her brains without expectation or better still, the info will come to you automatically as you work/help - that's what I did!
Once you know roughly what size operation you're aiming for, you can then get layouts down on paper. Having the experience behind you will mean that the winery flow diagram will seem obvious, and therefore fit neatly into you design. All you have to do now is spend money building and equipping it. You're on the way!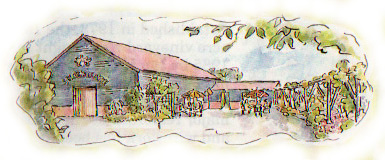 and

Winery tourism
Wine Tourism Around the World: Development, Management and Markets
As so many folk are intrigued at the prospect of visiting a winery to experience all it has to offer, winery tourism is now a huge business. And why not? If you have spent megabucks on setting up a state of the art winery to craft your products in, show it off to all and sundry and earn a secondary income from it.
Winery cellar doors are not simply venues to taste and purchase wine any more – services can include restaurants, accommodation, tours, picnic and recreational facilities.  The great thing about today's cellar door is that it is a place where wine enthusiasts and visitors alike can interact with the product, the winemaker and experience first hand, the rich diversity that the wine region has to offer.   
If you happen to be in an exclusive location, such as the Napa Valley in California, Hunter Valley in Australia or the Marlborough region in New Zealand - there will be millions of fascinated, thirsty - and hungry visitors just waiting to sample your wares. There are, of course thousands of beautiful wineries in beautiful locations all over the world that I have not mentioned, all successfully involved in winery tourism, these are just three off the top of my head.
Getting back to dealing direct with the grower or producer rather than through the big retailers is what it is all about, so if next time you're on holiday in a winegrowing area, pop along and see what it's about - you'll enjoy it!

Hunter Valley, Australia
Photo Credit - Wikipedia
Argentina - Wine Tourism
Australia - Wine Tourism | Hunter Valley
California - Napa Valley Vintners | Sonoma County
France - Wine Tourism
New Zealand - Wine Tourism Network
South Africa - Franschhoek Wine Valley
Spain - Wine Tourism
Developing Marketing Plans for Winery Tourism Businesses
In 2004 Lori A. Martin of the Michigan State University produced a report outlining the marketing plans for Winery Tourism Businesses, this in depth report can be seen in full here...

Professional winery design software
A program developed by winemakers for winemakers to help create and organize vintage procedures from crush through bottling.
This unique program helps create and organize vintage procedures from crush through bottling. Enter the specs for Brix, pH, Acid and SO2 and let the program do the calculations. It also includes a wine cellar program to record wine details, inventory, tastings, reports, winemakers, suppliers, pie charts and more.
Operating System: Microsoft Windows only.