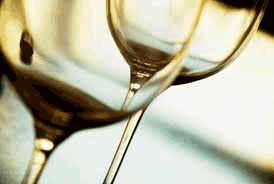 Many people worry about matching the right food to a particular wine, but it's really nothing to get worked up about. If you've ever had a wine that just didn't go with a meal, I bet you commented in a negative way to those with you. Whether you knew anything or nothing about wine, it could have affected the whole meal.
Is food and wine matching actually necessary or is it pure snobbishness? Yes, matching food with wine enhances the overall experience of both, and it is not at all snobby. If you choose the wrong wine to accompany a certain food, this experience can be adversely affected. It's all about achieving that attractive balance for our taste buds, and getting complementary flavors from both the food and the wine make the whole experience more memorable.
It's a matter of teaching your taste buds!
Get the match right and WOW! you'll notice it. Each will bring out the best in the other, and you'll be in for a memorable meal. So let's delve into how to match up those flavors and nuances properly.
How to Match Wine With Food
Practice makes perfect!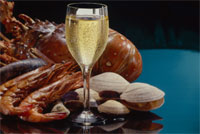 The matching of a wine to a particular food is quite a skill, but once your palate develops - all it takes is practice - the task will become easier.

Food matching tips from the experts is a great place to start. There you will get a feel of wine-tasting terminology, another place is right here on our own site. An accurate description of a wine will make it easier to match to food.

Example:

We have some delicate fish like trout, what's the wine going to be?
Trout is a delicate white meat ...
So, we need a delicate wine.
A red wine is not a delicate wine - so it's going to be a white.

Why is red not delicate? Well, it is a fuller, heavier in body and contains tannins (which are bitter to the taste) - not what we want with trout.
Now we are searching for a style that will enhance but not overpower the fish.
Something fresh with a citrus flavor would be good - we often add a squeeze of lemon onto the fish.
We now look for a wine that is young and fresh, with a citrus or herbaceous character (apples/pears/melons/grass, etc.)
The wine could easily be a young Riesling or Sauvignon Blanc which both have these characteristics. An older wine has lost it's freshness and some acidity, so the age is important - that is why white wines don't age as well as reds.
So there we have it, we have made our first match.
I'm sure you are familiar with all those adjectives, used by professional wine tasters, when describing a wine they are tasting. Here are some examples:





"Clean and fresh on the nose with hints of apples and pears."




"Tight marmalade and apricot nose which is complex but a touch closed. Great concentration on the palate which is rich with a fat texture: lovely plump apricot and lemon fruit."



"Fresh, fine nose, with some rich coffee-like notes. The palate is a bit gravelly with pure, intense fruit."



"Opaque red/black colour. Tight nose with complex tar, black fruit and spice notes. Massively tight on the palate with firm tannins dominating. Lots of spicy richness here and a firm core of minerally, tarry fruit."


The more wine tasting you do, the more acute your palate will become - practice makes perfect! With the help of Food matching tips you will be tasting and spitting like a pro in no time at all!


If you are tasting a lot of wines, you need to spit out for obvious reasons, the professionals spit into a spittoon
.
5 Top Tips For Matching Food With Wine
Wine and Food Pairings