A little bit of knowledge is not dangerous - but more of it is fun!
Wine is a fascinating and thoroughly absorbing hobby. There is such a vast array of wine styles made by thousands of winemakers using so many different varieties, that there is always a load of wines with superlative character out there.
It can appear confusing when you are faced with huge walls of wine at supermarkets, but learn a bit about it, and you will know exactly what type or color or style to look for. If your policy is guesswork, then stick around and pick up some tips to enable you to choose with confidence.
Another bit of advice for the newbie is to keep experimenting and trying new wines - don't always have the same one just because it was good, you WILL in time definitely find one better. Once you train your palate and learn how to taste wine correctly, and then you'll understand why so many pros always do the 5 S's: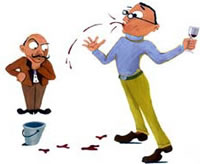 SNIFF, SWIRL, SMELL, SLURP, SPIT
More about the 5S's
Once you take onboard the fact that wine tasting and drinking is more subtle that knocking back a pint of beer, then you'll begin to appreciate what enthusiasts and wine lovers do. Each stage of the 5S's is one to be thoroughly engaged into. After all, if you haven't managed to sniff the wine, then you will be unable to gauge what interesting flavors may be contained therein. Failing to slurp the sample and keep it in your mouth for longer will mean that your taste buds won't have enough time to analyze the nuances.
The idea of slurping and spitting wine may not appear to be good mannered, but there are discreet ways of doing them. Remember, that if you are planning to sample a dozen wines or more, you'll need to spit out the wine as you go, otherwise you'll be under the table in no time - and your tasting judgment will be completely useless.
Find relevant books
There are so many good wine related books by as many great wine respected authors. When I started out, both with growing grapes and making wine, I got hold of as many books on the subjects as I could. I continue to use nearly all of them to this day! The wine scene is an ever changing one - which makes it so interesting, and you will find a host of top sites ready to offer you information - you may have to become a member of some, but go for it!
The book on the right, Wine Novice Guidebook
is aimed at beginners to wine offering:
What to look for when buying wine
Tips for selecting, storing, tasting and serving wine
"I find this book truly remarkable because it portrays wine as a
stylish and elegant beverage that can be enjoyed by everyone."
I have put together what I consider to be the very best wine books available, so if it's reading material you want, have a look here...
It's rated one of the most exciting clubs offering unique handcrafted wines.
Find a local wine course or join a wine club
A great way to fuel your enthusiasm is to join a local wine group who offer regular wine tasting sessions. This sort of practice will put you in front of so many different wines, and give you the opportunity to pick up notes from colleagues. If you are serious about taking a course, here is what I'd advise:
Enquire about the tutor's wine expertise. Knowledge is a better substitute for enthusiasm and experience shows. You want to have someone with a track record or who has worked in the industry before. Ask how large the group is - the more people often signifies a popular course. It'll only be popular if the tutor is good.


Ask about the different types of wines you'll be exposed to rather than the number of wines you'll be tasting. If all you want to taste is great wines, you're at the wrong place. Learn from the bottom up on the lower price bracket wines.


Make sure you understand the policy for any classes that are missed. If you're busy and you miss some of the classes, see whether you can make it up in the next semester, so long as there is space available for you. Perhaps you might be able to send someone in your place to get the information and notes for you.
I will advise you here and now: Do it. Don't put this off. You may be curious, and somewhat intimidated, but everyone has to start somewhere. You will enjoy it!
Even if you're not such a beginner, there is always something new to learn especially in the wine world.
What is here for beginners?
This site is easy to navigate, so where do you start as a newbie? Well, if you want to learn about making wine at home - click here, find out what specialist wine books to buy - click here, match food and wine - click here. At any stage there are wine and winemaking glossaries to find out what those odd wine terms mean.
Learn more on:
The only way to really learn to appreciate wine is by drinking it.