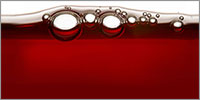 Red wine is made from grapes with a dark skin color,ranging from a highly intense violet, common of younger wines, through to a brick red for the older, more mature wines. There are many red-skinned grape varieties, all with varying amounts of anthocyan pigments. Most red varieties have a greenish-white juice, therefore a large part of the red winemaking process is to do with the extraction of color from the skins.
There are considerable differences between fermenting red wine and white wine, but for red wine production, skin contact begins almost immediately once the grapes have been de-stalked. It is important to remove the stalks to avoid unwanted tannins being included. The de-stalking process also causes the berries to be split open, so allowing for efficient juice extraction.
It can be said, that the main difference between red wines and white wines, is that reds gain their color, flavors and complex textures mainly to the time spent in maceration.


Red winemaking process
During the fermentation process, the dispersion of both color and tannins takes place. This is the part of red winemaking that is so fascinating.
What happens?
Yeast is added to the batch, and a fermentation will begin within a day or two. It is important to 'plunge the cap' or 'pump over' the juice, depending on whether the grapes are in an open fermenting bin of inside a sealed tank. As the ferment gets under way, the grape skins and pips are constantly being forced to the surface; therefore to ensure maximum maceration, this 'cap' must be pushed down into the juice - or the juice pumped over the solid material. The task may need to occur several times a day or just once or twice, depending on the amount of color required.
Making red wine is more complicated than making white, in that more processes are required throughout the whole of the winemaking process, and especially if the wine is to age in barrels. Different varieties have very different characteristics, so winemakers may often blend wines from more than one variety to add complexity.
Oak in wine
Aging in oak barrels has a tremendous influence in the wines' overall structure, and subtle flavors from the wood are imparted into the wine. Depending on where the oak originated from, whether it's French oak (Allier, Never or Vosges) or American oak, will have a huge difference in the outcome of the wine. French oak has always been in demand for the best red wines seeking gentle subtlety, whilst American oak works well on heavier structured table wines.
The grape characters of say a Pinot Noir compared to a Shiraz, or a Cabernet Sauvignon to a Pinotage, are so different to each other, that the winemaker has to make the wine according to the many and varied factors open to him. This is where blending comes in, as single varietals could be very ordinary on their own, but when combind together, produce an interesting blend.


Regions of red wine production
Red wine grapes are grown in the warmer regions of the world, usually spanning the equator between the 30th and 50th degree of latitude, in both the North and South hemispheres. Grapes will certainly grow elsewhere, but ripening them could be difficult. Unlike white winegrowing, where the grapes thrive, and in fact do better in cooler climates, red grapes need plenty of heat and direct sunlight. Saying that, not too many vineyards are to be found near to the equator, as it's just too hot for them, and the vines tend to suffer from sunburn.
Traditionally, France has led the way in red wine production, however, the major producing countries now, are Australia, California, Italy, Germany and Spain with Chile, Argentina, New Zealand and South Africa are continually increasing their red wine grape plantations.

Red wine styles
There are so many styles and weights of wine made from red grapes, dependant on grape variety or varieties, maceration duration, and aging. Normally, red wines will have bigger and bolder flavor profiles, with aromas and tastes that are enhanced with age.
ranging from the crisper, higher acid Rieslings and Sauvignon Blancs, through the fruity, aromatic Gewurtztraminers and Pinot Grigios to the fuller, sweeter Semillons at the dessert wine end of the scale.
Many styles to suit many palates, there really is a wine for everyones taste, so whether you want a delicate wine with fish or and spicy, aromatic wine with a curry, you're sure to find one to suit.
Guide to wine styles and food matching

Table of Red Wine Styles and Information
Wine Type
Notable Wines
Wine Regions
Wine Style
Flavors & Aromas
Mouthfeel
Acidity
Barbera
Barbera d'Asti, Barbera d'Alba, Barbera del Monferrato
Italy, Argentina, California
Barbera grapes produce good yields and are known for their deep color, low tannins and high acid levels. The use of oak for fermentation and/or maturation can have a notable influence of the flavor and character of Barbera. This popular wine is a fruity, medium bodied red which pairs well with pizza.
Blackberry, black cherry, raspberries, blueberries, plum
Smooth
High
Cabernet Sauvignon
Bordeaux Estates, Specialist Californian wines, Barossa Valley wines Australia
France, Italy,
Spain, Australia, California, Chile, Argentina
One of the most famous of all red wine varieties, it has now spread to most winegrowing countries in the world. The Cabernet Sauvignon grape is highly expressive of its terroir, and can be successfully grown in a wide variety of environments. this wine can be powerful and sharp, but silky and muted as it ages; this grape is the basis of wines from the Bordeaux region of France
Blackcurrants, cassis, cedarwood, mint, eucalyptus, coffee and chocolate, mahogany, vanilla and coconut
Smooth with a coarse finish
High
Malbec
Malbecs from Argentina
France, Argentina, Chile, California, Australia, New Zealand
Malbec is slightly out of favor with winegrowers, as it is very susceptible to frost and coulure. It makes a dry red wine renowned for its dark inky color and pronounced tannin content. Malbec is one of the main grape varieties of the Bordeaux Blend.
Plum, ripe cherry, black pepper, blackberry, damsons
Full, rich
Medium to low
Merlot
Saint-Émilion, Pomerol
France, Italy, California,
Washington, Chile, Australia, New Zealand, South Africa, Argentina
A dry red wine popular for its smooth, rounded and easy drinking; descended from the Cabernet Franc grape and so related to the Cabernet Sauvignon grape (these two are frequently blended with Merlot). Merlot is another of the main grape varieties in Bordeaux wine.
Plum, black cherry, floral aromas, red berries
Soft
Medium
Pinot Noir
Gevrey-Chambertin, Nuits-Saint-Georges
Burgundy & Champagne France,
California, Oregon, New Zealand, Australia
This is the red wine grape of Burgundy, also known as Spatburgunder in Germany. A tempermental variety that can only be grown in cool climates, it produces small crops, making it more rare and expensive. The identifying characteristic of any Pinot Noir wine is the notable aromas of strawberry and cherry.
Black cherry, plum, damp earth
Smooth with a crisp finish
High
Syrah/Shiraz
Côte-Rôtie, Hermitage, Penfolds Grange
France, Italy,
Australia, California, Washington, Chile, South Africa
Described as powerful yet refined, this complex red is dry with a bite on the finish, and often with big and bold flavors. In Australia, Shiraz is now widely blended with Cabernet Sauvignon.
Black pepper, cloves, blackberry, blueberries, mint, eucalyptus
Smooth, and round
Medium to high
Zinfandel
Californian Zinfandel
California, Italy, South Africa, Australia
With origins in Croatia Europe, this grape is now grown almost exclusively in California and is used to make a variety of robust wines, from sweet rosé (White Zinfandel) to port wine.
Blackberry, raspberry, anise, plum, pepper
Smooth
Medium