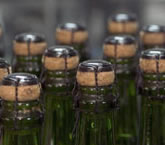 Getting to taste a mature champagne is a joy to behove, but wouldn't it be amazing to be one of the lucky ones invited to the ceremonial uncorking of the world oldest champagne? No, I wasn't there unfortunately, although twelve very worthy professional wine tasters were.
In March 2009 the experts convened in Epernay at the winemaker's cellars, to celebrate Perrier-Jouet's "liquid history". When the opening took place it was witnessed by Guinness World Records as the world's oldest champagne.
It is extraordinary to think that this wine was bottled 10 years after the battle of Waterloo. George IV was on the British throne (before Queen Victoria), and Charles X, the last King of France, was crowned at Reims Cathedral this very year, 1825.
The bottle in question was an 1825 champagne from the house of Perrier-Jouet in Epernay, home of this style of winemaking. But how would a bottle this old have aged, and would the cork still be OK?
There are two more bottles of the same vintage still to be opened – but "not in the near future", said the head of cellar, Oliver Cavil. These oldest bottles of champagne have been stored 70 feet underground in Perrier-Jouet's cellars at a constant temperature of 11 degrees C (52F).
As the Cellar Master removed the cork there was silence, then as the champagne was poured there was a burst of applause. "It was very stressful", he said. "I was worried that the cork would break up because it had never been changed. And I was afraid the Champagne would not be drinkable. But luckily, it was."
Most of the fizz and bubbles had disappeared, although there was still a slight spritz left. It is quite amazing to see any 'life' after such a period of time.
What did it taste like?
The head of the cellar made the official description which went as follows:
"Although there was only a hint of bubbles left it was perfectly fresh, the colour was fine and it resembled a very great Chablis, with a note of white truffles and chocolate."
General verdicts after the tasting were that the 184 year old champagne tasted considerably better than its much younger counterparts. It was found to have notes of "truffles and caramel" by one, "flavours of mushrooms, woods and a bit of honey" by a second and "mince pie at Christmas time" by a third.
It is no wonder that the wine was heavily oxidized and appeared to have a sherry-like character as tastes in those days were much sweeter than today. Experts believe that it was this sweetness which enabled the wine to survive for so long, combined with the pressure of five to six atmospheres in the bottle.
Serena Sutcliffe, the head of Sotheby's International Wine Department helped to organise the event, found there to be an "addictive flavour of figs" and even a "slight nose of the sea". She rated this 1825 champagne higher than three later vintages tasted from 1846, 1848 and 1874. Imagine if it had been sold at auction, that each sip would have been worth "hundreds of pounds", she said.
In 1985 Christie's of London sold a Chateau Lafite 1787 for 105,000 pounds making it the most expensive bottle of wine ever sold, so who knows what this bottle would have fetched had it been sold?
The event was like tasting history in a bottle, it could have been a real let down if the cork had not done its job properly. But as the wine had been stored perfectly, it was a triumph of success.
Let's raise a glass of champagne to the remaining two 1825 bottles – who still hold the world record for the oldest champagnes in the world!
To learn more about wine, please visit Understanding Wine where you will find a wealth of interesting wine information.
Article Source: http://EzineArticles.com/?Tasting-the-Oldest-Champagne-in-the-World&id=3880191